Chocolate Clusters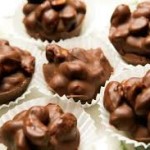 6 ounces of cooking chocolate
3 table spoons of honey
1 teaspoon of water
1 ⅓ of a cup of unsalted peanuts
Over a low heat, or in a double boiler, melt together the chocolate, honey and water.
Stir in the peanuts.
Cool for 10 minutes, then drop by teaspoonful's onto grease proof paper.
Fruit and Nut Chocolates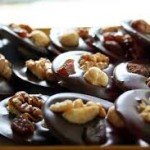 chocolate
2 ounces of dates minced
1 ounce of Coconut
2 ounces of biscuit crumbs (any)
1 table spoon of honey
walnuts
Melt the chocolate.
Mix the other ingredients, except the walnuts, together until the mixture is firm.
Break into about 18 pieces and roll into balls.
Flatten into tablet shape.
Dip into the melted chocolate and put a walnut on top.
Honey and Cream Caramels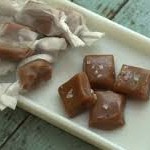 4 ounces of caster sugar
3 eggs
1 pint of milk
3 table spoons of liquid honey
¼ pint of double cream
Turn on the oven and set at 325°F.
Grease six ¼ pint metal moulds.
Dissolve the sugar with 4 tablespoons of water in a pan.
When the sugar has dissolved completely, bring to boil until pale golden.
Pour a little into base of each mould.
Whisk the eggs with the milk and honey.
Strain into the prepared moulds.
Stand the moulds in a baking tin, and add enough cold water to come halfway up the sides of the moulds.
Bake in centre of the oven for 1 ½ hours.
Cool overnight in moulds.
Turn out the next day, and serve topped with whipped double cream.
Honey Marzipan's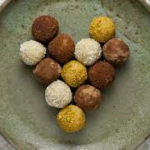 Chocolate
2 ounces of Ground Almonds
1 drop of Almond Essence
½ – 1 tablespoon of honey
Melt the chocolate.
Mix the other ingredients together, gradually adding the honey until a firm mixture.
Roll into small balls and dip in the melted chocolate.
Chocolate Almond Bon Bon's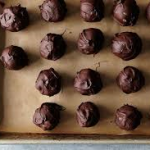 4 ounces of finely ground blanched almonds
¼ of a cup of honey
1 tablespoon of butter or margarine
¼ of a teaspoon of almond extract
a pinch of salt
4 ounces of melted chocolate
Combine the almonds, honey, butter or margarine, almond extract and salt.
Form into balls and dip into melted chocolate.
Put on waxed paper and refrigerate to harden.
Honey Caramel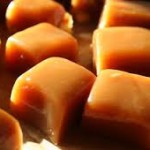 2 cups of brown sugar
¼ of a cup of honey
¼ of a cup of milk
¼ of a cup of butter
Boil ingredients to firm boil stage.
Beat until thick.
Cut into squares when cool.