Honeyed Pears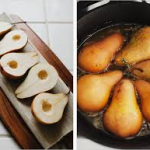 6 Pears
¼ of a cup of honey
1 cup of orange juice
¼ of a cup of lemon juice
¾ of a cup of water
1 stick of cinnamon
2 cloves
Peel the pears, leaving the stalk attached, and place them in a saucepan.
In another saucepan combine the honey, orange juice, lemon juice, water and spices,
and bring to the boil.
Pour over pears in the first saucepan.
Put the lid on and simmer pears gently until cooked.
Baste pears from time to time with the syrup.
Allow pears to cool in the syrup.
Pear And Almond Tart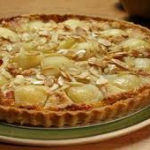 1 sheet of ready roll puff pastry 30 x 21 cm
1 tablespoon of caster sugar
2 tablespoons of ground almonds
1 ounce of butter
2 ripe dessert pears
1 ounce of flaked almonds
2 tablespoons of clear honey
Preheat oven to 200°C / 400°F / gas mark 6.
Lay pastry on baking sheet and prick the base all over with fork leaving 1″ or 2½ cm margin all round the edge.
Sprinkle the caster sugar and ground almonds on the base, leaving the margin clear.
Cut up the butter and dot over the almonds and caster sugar.
Slice the pears and lay over the pastry, leaving the margin clear
Sprinkle the top with flaked almonds and drizzle the honey over the top.
Bake in the top third of the oven for 20-25 minutes.
Strawberry Float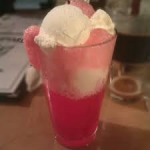 1 quart milk, chilled
¼ of a teaspoon of almond extract
6 tablespoons of honey
1 quart vanilla ice cream
2 cups of crushed fresh strawberries
Combine all ingredients and blend at medium speed for 1 minute.
Serve in tall glasses garnished with scoops of ice cream
Honey And Lemon Cheesecake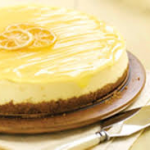 Crust
3 ounces of melted butter
6 ounces of crushed digestive biscuit
Filling
1 cup of powdered milk
⅓ of a cup of clear honey
2 ounces of melted butter
2 lemons
8 ounces of cottage or cream cheese
boiling water
Make the crust and leave to cool in the fridge
Put the milk, honey, melted butter, and the rind and juice of both lemons in a liquidizer and blend.
Add cheese and a little boiling water and blend again.
Pour into prepared crust and leave to chill in the fridge for at least two hours.
Flavours can be added as required.
Whisky and Honey Ice Cream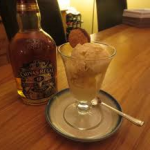 6 egg yolks
½  a pint of honey, a little less than a 1 lb jar.
2 tablespoons of whisky
½ a pint of double cream
3 tablespoons of bitter orange marmalade
3 tablespoons of whisky
3 tablespoons of water if required.
In a large bowl, beat the egg yolks until very light and fluffy.
In a small saucepan heat the honey until just boiling.
Pour the hot honey in a thin, steady stream over the egg yolks, beating all the time until the mixture is cool and the yolks increased in volume, about 3 minutes.
Add the whisky and stir well to combine.
Whip the cream to soft peaks.
Carefully fold into the egg mixture, blending well.
Pour the ice cream into a bowl and freeze overnight.
To make the sauce combine all the ingredients in a small saucepan and simmer over a low heat until the marmalade has melted. Leave to cool.
This ice cream is soft enough to be spooned straight from the freezer.
Stuffed Peaches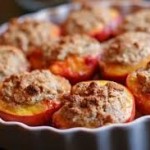 4 fresh peaches*
2 ounces of stale sponge cake
3 ounces of ground almonds
1 large orange
1 ounce of butter
3 tablespoons of honey
2 fluid ounces of white wine, sherry or brandy
Skin and cut peaches in half, and scoop out a little flesh.
Crumble the stale sponge cake, and mix with the ground almonds.
Add the grated rind and juice of the orange.
Fill peaches with the mixture and put in a shallow dish greased with butter.
Combine honey with wine and pour over peaches.
Dot with butter.
Bake in moderate oven 15-20 minutes.
Serve hot with ice cream.
* Tinned peaches can also be used.
Honey Ice Cream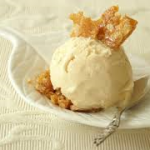 8 ounces of  clear honey
4 tablespoons of water
6 egg yolks
¾ of a pint of double cream
Put the honey and water into a pan and bring to the boil.
Leave until lukewarm and put into a bowl over a pan of hot water.
Add the egg yolks and whip until thick and creamy.
Take off the heat and continue beating until cold.
Whip the cream to soft peaks.
Fold in to the honey mixture.
Put into a metal basin or mould, cover and freeze.
When firm turn on to a chilled serving dish.
This ice cream is soft enough to be spooned straight from the freezer.
Balkan Honey Tart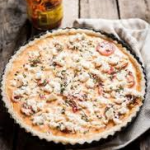 Pastry
4 ounces of wholemeal flour
4 ounces of self raising flour
6 ounces of margarine
A pinch of salt
1 tablespoon of honey
water to mix
Filling
4 eggs
7 tablespoons of honey
1 lb soft cheese
1 teaspoons of cinnamon
Grease a 9″ flan dish and line with pastry.
Beat together filling ingredients and pour into pastry case.
Bake for about 45-50 minutes or until set in the centre.
Persian Marble Rhubarb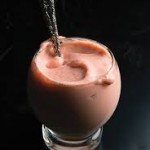 1 lb rhubarb
2 tablespoons of sherry
4 ounces of clear honey
1 cup of double cream
macaroons
Wash and string the rhubarb, and cut into small chunks.
Cook over a low heat with the sherry and honey, stirring well.
Blend and pour puree into a glass bowl.
Stir in the double cream to marble and not mix.
Chill.
Serve with whipped cream, and consume with macaroons.