Spiced Apple Cake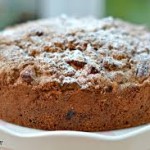 8 ounces (200 grams) Self-raising Flour
2 teaspoon  (10ml) Mixed Spice
4 ounces (100 grams) Margarine
2 ounces (50 grams) Golden caster sugar
6 ounces (175 grams) Sultanas
2 ounces (50 grams) Honey
5 fluid ounces (150ml) Milk
1 medium Egg, beaten
6 ounces (150 grams) Cooking apples, peeled and sliced
1 teaspoon (10ml) Honey to glaze
1 ounce (25 grams) Demerara sugar
Mix the flour with the spices.
Rub in the fat, and add the sugar and sultanas.
Warm the honey slightly and blend with the milk and the egg.
Add to the dry ingredients and mix well.
Place half of the mixture into a greased cake tin, cover with half the apple slices.
Spread the rest of the cake mixture on the apples and spread the remaining apples over the top.
Warm the honey glazing and pour evenly over the top and sprinkle the Demerara sugar on the top.
Bake at 190°C / 375°F until well risen and golden brown, for approximately 1 hour and 20 minutes
Bienenstich (Bee sting cake)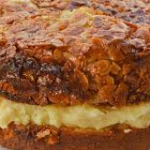 For the Dough
500 grams of plain flour
1 teaspoon of yeast
125 grams of butter or margarine
1 egg
½ a pint of  milk
15 grams honey
In a large mixing bowl rub the butter into the flour.
Add yeast.
Warm the milk to about 50°C and mix honey with it, then add to the mixture.
Lightly beat the egg and add that too.
Now beat thoroughly until the mixture leaves the sides of the bowl.
Cover the bowl with cling film and leave until risen (1 -2 hours).
When risen knead the mixture again.
Form the dough into a flat shape and place in a large flat baking tin.
Leave in a warm place to rise again, (about 30 min).
For the Topping
125 grams of unsalted butter
2 drops of  vanilla essence
150 grams of flaked almonds
125 grams of honey
15 ml milk
Whilst the dough is rising, boil the butter and honey together in a small saucepan.
Add the vanilla essence and milk and stir well.
Cool the mixture to about the same temperature as the dough and spread it gently over the risen dough.
Bake at Mark 7 / 220°C / 425°F for 16-20 minutes.
Turn off the heat and leave for another 3-5 minutes before removing from the oven.
Honey Fruit Cake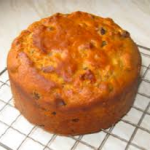 86 grams of caster sugar
113 grams of margarine
113 grams of honey
2 level teaspoons of mixed spice
170 grams of plain flour
1 level teaspoon of baking powder
2 eggs
454 grams of mixed fruit, no cherries
½ ta teaspoon of lemon juice
milk as necessary
pinch of salt
Cream the sugar, margarine and honey.
Sieve flour, baking powder and spice together and add alternately with egg to creamed mixture.
Add fruit, lemon juice and enough milk to make a fairly soft consistency.
Put the mixture in baking tin, approx 7 inches, lined with greased paper.
Bake at 180°C for 1 – 1¼ hrs.
Place greased proof paper on top for the last quarter of an hour, if browning too quickly.
Honey And Banana Cake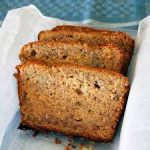 2 ounces of margarine
1 Teaspoon of granulated honey
1 Tablespoon of brown sugar
4 ounces of self Raising flour
Pinch of cinnamon
1 medium egg
1 medium banana
salt
Beat together the margarine, honey and sugar.
Add the dry ingredients and blend well.
Add the beaten egg and squashed banana.
Bake at gas mark 4 for 15 minutes
Apple and Cinnamon Cake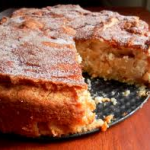 3 ½ teaspoons of cinnamon
2 red eating apples – peeled, cored and thinly sliced
250 grams of Self Raising flour
180 grams of butter
125 grams of caster sugar
90 grams of honey
3 eggs
120 ml milk
Preheat the oven to 175°C, and grease a deep 20cm diameter cake tin.
Mix ½ teaspoon  of the cinnamon with 1 tablespoon of the sugar and sprinkle over the base of the tin.
Line the base of the tin with apple slices, overlapped with no gaps for the cake mixture to leak through.
Sift the flour with the remainder of the cinnamon and set aside.
Cream the butter with remainder of the sugar until light and fluffy.
Gradually pour in honey in a constant stream, beating continuously.
Add beaten eggs gradually (the mixture will curdle if added all at once).
Add 2 tablespoons of flour to creamed mixture, and then pour in a little milk.
Continue folding in the flour and milk, finishing with flour.
Pour the mixture into greased cake tin and bake for 40 – 45 minutes.
An inserted skewer or knife should come out clean.
Allow to cool for 15 – 20 minutes, then turn out onto a rack.
The apples should be caramelized and the cake a rich golden brown.
 Hazelnut and Honey Ring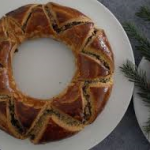 3 ounces of hazelnuts
3 ounces of margarine
3 ounces of liquid honey
¼ level teaspoon of ground cardamom
1 ounce of caster sugar
1lb of plain flour
4 ¼ level teaspoons of baking powder
¼ of a pint of milk
¼ of a pint of water
4 ounces of icing sugar
glaze cherries and angelica for decoration
Toast the hazelnuts, rub off the skins and finely chop.
Melt 1 ounce of margarine in a small pan.
Mix in the honey, nuts and cardamom and put aside.
Sift the flour, baking powder and caster sugar into a bowl.
Rub in the remaining margarine until mixture resembles fine breadcrumbs.
Make a well in the centre, and add the milk and water.
Mix to a smooth dough.
Roll out on a floured board to an oblong 15″ x 18″.
Spread nut mixture over dough and roll up like a Swiss Roll.
Join the ends to form a ring and press to seal the join.
Put on greased and floured baking sheet.
Use a sharp pair of scissors to make 16 cuts each going halfway through.
Pull the pieces alternately to the inside and outside of ring.
Bake in the centre of a preheated oven at 400°F for 35 minutes, until golden brown and cooked through.
Let cool.
Sift the icing sugar into a bowl and add enough water to make a thick glaze icing.
Use this with cherries and angelica to decorate.
Best eaten the same day.
Honey Tea Loaf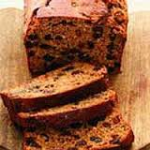 9 ounces of Self Raising flour
1 ½ level teaspoon of baking powder
1 level tablespoon of salt
1 ½ ounces of margarine
¼ pint and also 1 tablespoon of liquid honey
¼ pint milk
2 heaped tablespoons of sultanas
Sift the flour baking powder and salt into a bowl.
Cream the margarine until light and fluffy.
Gradually beat ¼ pint of honey into margarine until well blended.
Stir the flour and milk alternately into creamed honey mixture.
Stir in sultanas.
Put in 8″ x 4″ tin and bake at 350°F.
Melt the tablespoon of honey, and brush over the loaf and bake for further 5 minutes.
Sticky Top Fruit Loaf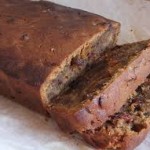 1 ounce of whole almonds
1 ounce of plain flour
1 level teaspoon of baking powder
A pinch of salt
4 ounces of butter
4 ounces of caster sugar
2 eggs
6 ounces of sultanas
2 ounces of glaze cherries
2 ounces of walnut halves
2 teaspoons of liquid honey
1 ounce of chopped mixed peel
Put almonds in small pan, cover with water and bring to boil.
Drain and skin and split in half.
Sift flour, baking powder and salt into a bowl.
Cream the butter and sugar until light and fluffy.
Beat the eggs and gradually add to the creamed mixture, beating all the time.
Fold in the flour and sultanas.
Spread evenly in greased 1lb loaf tin.
Bake in centre of pre heated oven for 30 minutes at 350°F, then reduce to 300°F for 20 minutes.
When cool cut the cherries in half, and put in the pan with the nuts, honey and peel.
Heat gently until the honey is liquid and then boil rapidly for 3 minutes.
Let it cool.
Pour over top of the loaf when it begins to thicken.
Caramel Fingers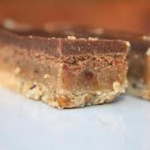 Enough Swiss Tart Pastry to line a sandwich tin
2 ounces of margarine
2 ounces of sugar
Small tin condensed milk
1 tablespoon of liquid honey
Melted chocolate to taste
Bake and cool pastry.
Melt filling ingredients slowly and boil for 5 minutes, stirring constantly.
Pour over the pastry, and cover with melted chocolate.
Cut into fingers.
Coffee Cake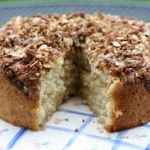 For the Cake
1 ½ cups of sifted flour
2 teaspoons of baking powder
½ a teaspoon of salt
1 egg
⅔ of a cup of milk
⅓ cup honey
3 tablespoons of melted shortening
Sift together the dry ingredients.
Beat the egg.
Add the milk, honey and shortening.
Stir together the dry ingredients.
Mix lightly (Only enough to moisten the flour).
Spread in lightly greased tin.
For the Topping
¼ cup butter or margarine
¼ of a cup of sugar
¼ of a cup of sifted flour
¼  of a cup of honey
¼ of a cup of chopped nuts
Cream the butter or margarine. Add the sugar, flour and honey and mix thoroughly. Sprinkle with nuts.
Cover the batter with the topping.
Bake at 400°F for 25-30 minutes
Honey Wheat Loaf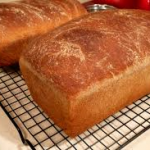 4 ¼ cups of white flour
2 cups of wholemeal flour
1 tablespoons of salt
1 packet of dry yeast
2 cups of water
¼ cup of honey
3 tablespoons of margarine
1 cup of raisins
¼ cup of sugar
¼ teaspoon of cinnamon
Combine the flour.
In a large bowl thoroughly mix 2 ½ cups flour mixture, salt and yeast.
Combine water, honey and margarine in saucepan.
Heat until liquids are warm but margarine not melted.
Gradually add to the dry ingredients, and beat for 2 minutes at medium speed in mixer,
scraping the bowl occasionally.
Add 1 cup of flour mixture – enough to make a thick batter.
Beat at  high speed for 2 minutes, scraping the bowl occasionally.
Stir in raisins and enough additional flour to make soft dough (if necessary add more white flour).
Turn onto lightly floured board.
Cover the dough with bowl and let it rest for 10 minutes.
Place the dough in a greased bowl, turning it to grease the top of it.
Cover, let rise in a warm place, free from draughts, until it's doubled in size.
Thoroughly mix the sugar and cinnamon.
Turn the dough out onto a lightly floured board.
Divide in half and roll each into a 12″x8″ rectangle.
Brush lightly with melted margarine, and sprinkle with sugar/cinnamon mixture.
Roll tightly from the 8″ side as for jelly roll.
Seal ends of loaf and fold underneath.
Place loaf seam side down in a greased 8 ½" x 2 ½" loaf pan.
Repeat with the remaining dough.
Cover, and let rise in warm place free from draughts until doubled in size.
Bake at 400° for 30-35 minutes.
Honey and Sherry Drizzle Cake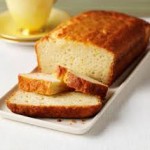 For the Cake
6 ounces of honey
4 ounces of soft brown sugar
5 ounces of butter or margarine
2 eggs
7 ounces of Self Raising flour
For the Drizzle
2 tablespoons of honey
3 tablespoons of sherry
Put the honey, sugar, butter and 1 tablespoon of water into a saucepan.
Warm until butter is melted
Remove from heat and beat in eggs
Stir in sifted flour
Grease and line a 7″-8″ tin
Cook in moderate oven for 45-55 minutes
Leave in tin for 5 minutes, then put on tray with plate underneath
Warm together 2 tablespoons of honey, and 3 generous tablespoons of sherry and drizzle over cake.
Honey Orange Muffins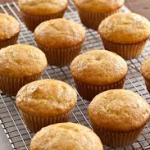 ½ a cup of sifted flour
½ teaspoon of salt
2 teaspoons of baking powder
½ of a cup of wholemeal flour
1 egg well beaten
¼ of a cup of orange juice
1 teaspoon of grated orange rind
½ a cup of honey
3 tablespoons of melted shortening
Sift flour, salt and baking powder together.
Add wholemeal flour and mix thoroughly.
Combine egg, orange juice, honey and shortening.
Add all at once to flour, stirring only enough to dampen all flour.
Bake in well greased muffin pans, in a moderately hot oven 400°F 15-20 minutes until brown.
Honey and Peanut Squares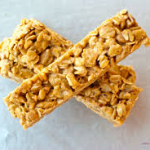 8 ounces of plain sweet biscuits
3 ounces of margarine
6 level tablespoons of granulated honey
4 level tablespoons of crunchy peanut butter
Grease a square tin.
Put the biscuits in a polyethylene bag and crush with a rolling pin.
Put margarine and honey in a pan and gently heat until melted.
Mix in biscuits and peanut butter.
Spread over the greased tin and leave in a fridge to set.
Cut into squares.
Honey Almond and Cranberry Bread
6 cups of biscuit mix
1 teaspoon of ground allspice
2 cups of cranberries
rind and juice of 1 orange
1 cup of chopped blanched almonds
2 eggs
1 cup of honey
½ cup of milk
Combine biscuit mix, allspice, cranberries, orange rind and almonds.
Add eggs, honey, milk and orange juice.
Beat until well blended.
Spoon mixture into two greased and floured loaf tins.
Bake in moderate oven (350°F) for 50-55 minutes.