Fruit Bread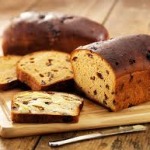 1 lb plain flour
½ a level teaspoon of salt
1 ounce of lard
½ ounce of fresh yeast (or 1 level teaspoon of dried yeast and 1 level teaspoon of caster sugar)
½ of a pint of tepid milk
2 tablespoons of liquid honey
4 ounces of currants
Sift the flour and salt.
Rub in the lard.
Cream the fresh yeast with a little tepid milk, then stir in the rest of the milk.
Or if you are using dried yeast, mix with sugar and sprinkle on top of tepid milk.
Leave for 15 minutes.
Make a well in the centre of the flour and stir in yeast liquid and honey to make a soft dough.
Turn out onto a lightly floured board, and knead for 10 minutes.
Lightly oil the inside of a large polyethylene bag.
Put the dough in the bag and leave in a warm place until the dough has doubled in size.
Knead currants into the dough.
Put dough into greased and floured loaf tin.
Bake in centre of preheated oven at 450° until it sounds hollow.
Banana Orange And Honey Loaf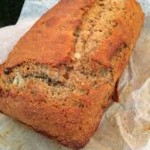 Preparation: 15 minutes, Cooking time: 1 hour.
Serves 6-8.
200 grams (8 ounces) self-raising flour
1 teaspoon of ground cinnamon
100 grams (4 ounces) margarine
2 ripe bananas, mashed
100 grams (4 ounces) dark brown sugar
The grated rind of 1 orange
2 eggs, beaten
50 grams (2 ounces) honey
50 grams (2 ounces) icing sugar
Juice squeezed from half an orange
Pre-heat oven to 180°C (350°F, Gas Mark 4).
Grease and line the base of a 1 kilogram (2lb) loaf tin.
Sieve the flour and cinnamon into a large bowl.
Rub in the margarine with the fingertips until the mixture resembles fine breadcrumbs.
Stir the mashed bananas, brown sugar, orange rind, eggs and honey into the mixture.
Beat well until all the ingredients are incorporated and turn into the prepared loaf tin.
Bake in the pre-heated oven for about 1 hour, until a skewer put into the centre comes out clean.
Leave to cool on a wire rack.
Mix the icing sugar with the orange juice and then drizzle the mixture over the loaf.
Leave to set.
Wrap in foil.
Honey Bread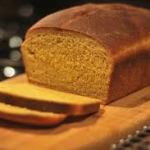 2 ½ cups of milk
1 tablespoon of salt
¼ of a cup of butter
¼ of a cup of liquid honey
1 packet of dried yeast
¼ cup of warm water
6 ½ cups sifted of unbleached flour
2 tablespoons of wheat germ
Heat milk to simmer.
Add salt, butter and honey, and stir until dissolved.
Pour into a large bowl and let cool to lukewarm.
Dissolve yeast in the warm water and set aside.
Add 2 cups of flour to the milk mixture and mix well.
Blend in the yeast.
Add 2 more cups of flour and beat thoroughly for 1 minute.
Add wheat germ and mix well.
Mix in another 2 cups flour.
Dough should now be stiff enough to handle.
Sprinkle some of the remaining flour on a pastry board or cloth.
Turn dough onto it and knead until smooth and elastic, adding more flour if necessary.
Grease same bowl, and put dough in.
Cover with cloth and let rise until double in size.
Turn out onto floured board, cut in half and shape into 2 loaves.
Place in well buttered pans.
Let rise again in warm place for 45 minutes.
Brush tops lightly with milk.
Bake at 350° for 45 minutes.
Date and Honey Tea Loaf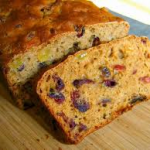 30 g (1 ounce) Hard Margarine
170 g (6 ounces) Plain Flour
90 g (3 ounces) Dates
5 tablespoons of Boiling Water
1 Egg
30 g (1 ounces) Sugar
½ level teaspoon Bicarbonate Soda
6 level tablespoons of Honey
Prepare oven at 180°C / Gas Mark 4 (350°F)
Grease a 454 g (1 lb) loaf tin.
Rub margarine into flour.
Chop dates and pour boiling water over them, then allow to cool.
Beat the egg.
Dissolve Bicarbonate of Soda in the water and date mixture.
Make a well in the centre of the flour, and add all the other ingredients.
Stir well, and pour quickly into loaf tin.
Bake for approximately 50 minutes in centre of oven.
Orange Honey Bread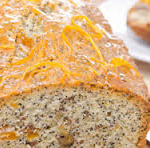 12 ounce of plain flour
3 level teaspoons of baking powder
½ level teaspoon of bicarbonate soda
1 teaspoon of salt
4 ounces of butter
4 ounces of caster sugar
grated rind of 1 large orange
7 tablespoons of liquid honey
1 egg
¾ of a pint of orange juice
chopped walnuts, almonds or cashews
Sift dry ingredients together.
Cream butter, sugar and orange rind.
Slightly warm honey and mix it in.
Beat egg lightly and mix it in.
Add flour and orange juice alternately to the creamed mixture to make a fairly thick batter.
Blend well, and stir in nuts if used.
Turn into a large loaf tin (it should only half fill it).
Smooth the top and make a hollow in the centre.
Bake for about 1 hour at 325°
Date Loaf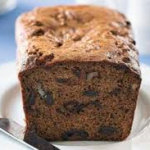 125 grams of margarine
1 ½ cups of dates
1 teaspoon of cinnamon
1 teaspoon of mixed spice
1 teaspoon of bi-carb soda
¾ of a cup of boiling water
½ a cup of honey
1 ½ cups of Self Raising flour
Place margarine, dates, spices and soda in a bowl.
Add ½ cup water to honey and stir.
Add to ingredients in bowl and add extra ¼ cup water.
Stir until margarine is dissolved.
Stir in flour.
Bake for approximately ¾ to 1 hour.
Honey Raisin Bread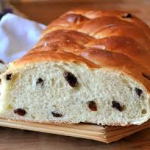 2 ½ cups of plain flour
3 teaspoons of baking powder
½ a teaspoon of bicarbonate soda
½ a cup of bran cereal
1 cup of raisins – chopped
⅓ of a cup of firmly packed brown sugar
½ of a cup of walnuts – chopped
1 cup of milk
2 eggs
⅓ of a cup of honey
2 tablespoons of melted butter
Mix together flour, baking powder, soda, bran, raisins, sugar and nuts.
Combine milk, eggs, honey and butter.
Stir into dry ingredients and beat until smooth.
Pour batter into greased 22 x 12cm loaf pan.
Bake in moderate oven approx 1 hour or until done when tested.
Serve sliced and buttered.