Honey And Mustard Sauce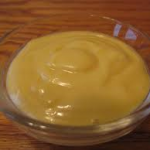 6 tablespoons of clear honey
3 tablespoons of English or French mustard
½ a teaspoon of horseradish sauce
1 tablespoon of cornflour
3 tablespoons of red wine vinegar
2 tablespoons of lemon juice
Put all the ingredients in a heavy-based saucepan, and cook over a gentle heat, stirring continuously, until the mixture clears and thickens slightly.
Serve with hamburgers, steaks and chops.
Honey Mustard Sauce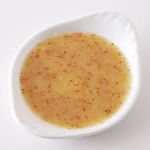 ¼ cup of Dijon style mustard
1 teaspoon of dried tarragon crushed
¼ of a cup of honey
2 tablespoons of  white wine vinegar
2 teaspoons of olive oil
salt
pepper
Combine the mustard and the tarragon and mix well.
Gradually blend in honey, add the vinegar and oil and mix well.
Add salt and pepper to taste.
Barbecue Sauce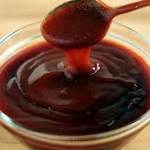 3 tablespoons of tomato ketchup
1 tablespoon of oil
1 tablespoons of cider vinegar
1 tablespoons of soy sauce
2 tablespoons of honey
2 tablespoons of barbecue spice seasoning
1 tablespoon of onion powder
1 teaspoon of garlic salt
1 tablespoon of paprika
½ a teaspoon of ground cinnamon
½ a teaspoon of ground cloves
Mix together to form a smooth paste.
Coat the meat and leave to stand for 30 minutes.
Honey Barbecue Sauce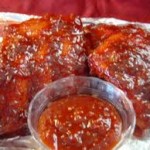 1 onion finely chopped
½ a cup of butter
1 clove of garlic
1 x 6 ounces of tin tomato paste
1 cup of water
½ a cup of Worcester sauce
⅓ of a cup of lemon juice
1 tablespoon of salt
¼ of a cup of brown sugar
¼ of a cup of honey
10-12 drops hot pepper or chilli sauce
Sauté the onion in the butter, in heavy saucepan until transparent but not brown.
Add the remainder of the ingredients, and simmer on low heat for 1 ½ hours.
Lemon Sauce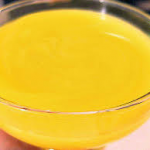 2 tablespoons of cornflour
1 ¾ cups of water
¾ of a cup of honey
¼ of a teaspoon of salt
1 egg well beaten
¼ of a cup of lemon juice
2 teaspoons of grated lemon peel
Mix the cornflour with small amount of water.
Add the remaining water, honey and salt, and blend well.
Cook and stir until mixture thickens and comes to boil.
Remove from heat, stir in lemon juice and peel.