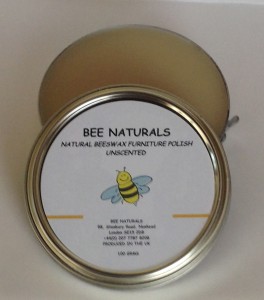 Bee Naturals Handmade Beeswax Furniture Polish.
All Bee Naturals products are solvent free. Using our polish regularly will create a beautiful and protected finish. It will restore the natural beauty and grain of the wood on neglected pieces and is perfect for those restoration projects! Regular use will bring out the patina of the wood, and give it a luxurious silky finish, combined with the gorgeous lingering smell of pure beeswax, lavender, Cedarwood or orange and lemon. Bee Naturals is perfect for reviving any distressed wood, and beeswax has traditionally been used for centuries to preserve finishes. Bee Naturals beeswax polishes naturally provide a barrier coat to protect and repel water and enliven the existing finish of your wood. There is absolutely no neurotoxic petroleum by-products, no artificial fragrances, no turpentine or mineral spirits and no solvents.  Bee Naturals Polishes are made using only unrefined beeswax, carnauba wax, pure virgin plant oils, and 100% pure essential oils of sweet orange, lemon, lavender and Cedarwood.
AVAILABLE IN FRAGRANCES  :-  Natural.  Lavender. Cedarwood. Orange & Lemon
SIZES AVAILABLE IN GRAMS :-  50. 100. 200.
Bee Naturals Handmade Finisher's Formula For Antiques & Restoration.
Bee Naturals handmade finishers formula, is the perfect choice for restoring antique kitchen surfaces, recently sanded raw wood surfaces, or for use on antique dining tables, without using any nasty and highly toxic synthetic chemicals.  We blend a base of beeswax, and a higher carnauba wax content to provide additional protection and shine. The higher carnauba wax percentage will also add a natural protective coating,  which will nourish and protect your treasured wooden furniture for life.
Bee Naturals will enhance the quality of the finish on your antiques, craft works and wood turnings, antiques, and craft works. Our finishers formula is a remarkably durable handmade blend of beeswax and carnauba wax that will bring out the natural beauty and grain of wood. One of the major advantages of using bee naturals finishers formula wax, is that it is entirely food safe, non toxic and can be applied over other finishes.
Bee Naturals Finisher's Formula is biodegradable,  environmentally friendly, non flammable and is a 100% natural blend of pure unrefined beeswax and carefully selected  natural oils for use on antiques, finished and unfinished fine woods.
With public concern for the environment increasing, and a market deviation away from synthetic and chemical products, Bee Naturals Finisher's Formula is the natural choice, our handmade blend of natural beeswax, carnauba wax, natural plant oils and pure essential oils.
Bee Naturals Finisher's Formula is 100% Biodegradable, non flammable, and contains no artificial fragrances, no solvents, silicates, toxins or petroleum distillates… yes BEE NATURALS Is 100% chemical free!
AVAILABLE IN FRAGRANCES  :-  Natural Only.
SIZES AVAILABLE IN GRAMS :-  50. 100. 200.