Community Makes Us Stronger.
At Bee Naturals, community is at the very heart of what we do, and who we are. We firmly believe that community involvement makes us stronger as an organisation, and it has become an important part of our operations to give something back.
We just love talking about our honey bees, or taking activities out into the community. Above you will see us giving a honey harvest demonstration, for the residents of a local residential care home. Boy, it was fun! Each resident got their own jar of honey that they harvested themselves, and cut comb to take away.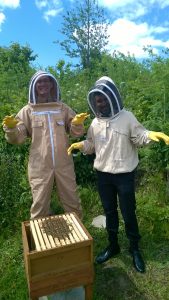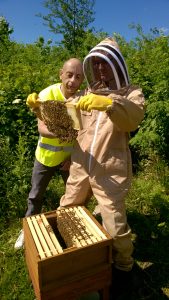 Whenever possible, we just love having members of our local community getting the chance to check out our bees.
We provide bee suits and equipment required, and here you can see two of our special needs visitors enjoying a hive demonstration by Paul at one of our open hive events.
Open days and community days are held regularly throughout the season (April-August), and events are posted on our website and Facebook pages.
If you are part of a local community organisation, care home activities team, teacher, etc. Then please feel free to contact us to see how we are able to assist. There are no costs involved, we provide our community services, talks and demonstrations, free of charge and at our own expense. To be eligible your organisation must be in SE15, SE1, SE16, SE17 or within the local area and adjoining postcodes.