Below You Will Find some Of My Favourite Baking Recipe's that Include Honey. I hope you enjoy them as much as I do!
HONEY AND LEMON DRIZZLE CAKE.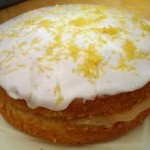 Ingredients
285 grams Self Raising Flour
285 grams Margarine
285 grams Caster sugar
2.5 Teaspoons Baking Powder
5 Medium Eggs
1 Fresh Whole Lemon
125 Grams Icing Sugar
Preheat oven to 170
Using a 9 inch tin, grease the inside of the tin well with a little butter or margarine.
Sieve the flour and baking powder into a bowl, and add the margarine and caster sugar along with the five eggs. Beat well together until creamy, light and fluffy.
Divide between your tins and bake at 170 for 30 to 40 minutes.
Honey And Lemon Drizzle.
Zest the lemon, but keep the grated ring to one side as you will need it to finish the cake.
Put the juice from the whole lemon into a cup and add one ample Tablespoon of honey, and one level tablespoon of sugar. Boil a small pan of water and place the cup in. Stir until the honey, lemon juice and sugar are all dissolved into liquid.
Once the sponge is cooked, remove and allow to cool. Once cool pierce several holes into the top,( I find a chopstick works really well) making sure you push right into the cake. Take your honey and lemon drizzle and teaspoon over and into the holes you made previously, you want the flavour to soak right through the sponge. save a little aside for the icing!
Put your 125 grams of icing sugar into a bowl and add one tablespoon of water. Stir and add water a little at a time, until a nice runny consistency. Once ready pour over the top of your cake and allow to drizzle over and down the sides.
Take the last of your honey and lemon drizzle and spoon over the icing and sprinkle the grated lemon zest over the top to finish and decorate.
Additionally should you prefer you can make a butter cream filling for the sponge. for this you would need 150 grams of butter, one tablespoon of honey, 340 grams of icing sugar and three table spoons of lemon juice. Beat the ingredients in a bowl until creamy, if needed you can add a tablespoon of water at a time, then spread on the inside of cake and allow to set.
Allow for icing to set then enjoy!!
Apricot And Honey Oat Bar Biscuits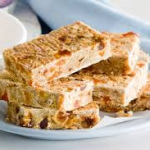 1½ cups old-fashioned rolled oats (uncooked)
½ cup finely chopped dried apricots
½ cup honey
¼ cup non-fat plain yogurt
2 large egg whites
2 tablespoon of wheat germ
2 tablespoon of  flour
3 tablespoon of margarine, melted
½  a teaspoon of cinnamon
½ a teaspoon of  vanilla essence
¼ of a teaspoon of salt
1. Preheat oven to 325°F. Spray an 8″ square baking pan with non-stick cooking spray.
2. In large bowl, combine all ingredients; mix to blend.
3. Turn mixture out into prepared pan, smooth evenly.
4. Bake until centre is firm and edges are lightly browned, about 25 minutes.
5. Cool and cut into 2″ squares.
Honey Nut Biscuits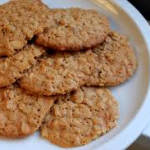 ½ cup honey
1 cup Brown sugar
½ cup shortening
1 egg
1 teaspoon of vanilla essence
2 ⅓ cups sifted flour
½ cup chopped hazelnuts
Cream honey, brown sugar and shortening.
Add egg and beat well.
Sift dry ingredients and add.
Add nuts.
Mix and shape into long roll about 2″ diameter.
Cover with foil and chill overnight.
Slice thinly and bake in hot oven 400° 10-12 minutes.
Honey Shortbread Biscuits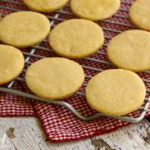 4 ounces of Butter
6 ounces of Plain Flour
1 teaspoon of ginger
1 ounce Honey (preferably set)
Rub butter into flour.
Add ginger and honey and mix together to make biscuit dough.
Roll out thinly.
Cut into rounds.
Bake in a medium oven for about 10 mins until lightly browned.
Transfer to a cooling tray.
Chocolate Chip Cookies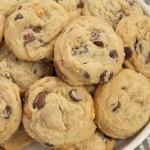 ½ a cup of margarine
½ a cup of Liquid Honey
1 Egg
1 cup of sifted plain flour
1 teaspoon of baking powder
¼ teaspoon of salt
½ teaspoon of vanilla essence
½ a cup of chocolate chips
¼ of a cup of chopped nuts
Cream margarine and add the honey, beat until light and fluffy.
Add egg and beat well.
Sift flour, baking powder and salt.
Mix flour mixture into margarine and honey.
Add vanilla essence, although this can be omitted if desired.
Fold in chocolate chips and nuts.
Chill and drop by teaspoonfuls onto greased baking sheet.
Bake at 375°F for 12 minutes.
Honey Cookies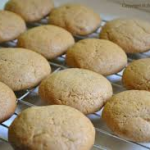 4 ounces of flour
2 ounces of butter
1 cup of honey
½ a teaspoon of bicarbonate soda
2 ounces of sultanas
2 teaspoon of hot water
Cream butter and add gradually to flour.
Dissolve bicarbonate soda in hot water and add to flour and butter.
Sprinkle the sultanas over the mixture.
Add honey a little at a time and mix well until a firm dough.
Roll out on a floured board to ⅜" or 10mm thick.
Cut out and place on greased tin and bake in hot oven. 220 for 20-25 minutes
Cornflake Macaroons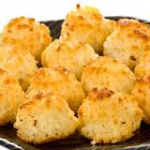 2 ounces of cornflakes
2 ounces of blanched almonds
2 egg whites
7 ounces of caster sugar
1 tablespoon of liquid honey
3 ounces of desiccated coconut
½ a teaspoon of almond essence
Arrange two oven shelves: one bottom, one centre. Pre-heat to 300°F.
Grease 2 baking sheets.
Place cornflakes in paper bag and crush with hands.
Chop almonds.
Place egg whites in clean, grease free bowl and whisk until stiff but not dry.
Fold in sugar with metal spoon.
Measure honey carefully, levelling off spoon with a knife, and making sure that there is none on the underside of the spoon.
Fold into mixture with cornflakes, almonds, coconut and almond essence.
Pile heaped teaspoonful of mixture onto baking sheets, about 1″ apart.
Bake for 20-25 minutes until pale golden.
The lower tray will take 3-5 minutes longer.
Remove and leave on rack to cool.
Honey And Gingerbread Cookies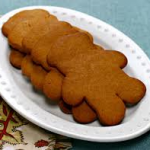 1½ cups of honey
¾ cups of butter or margarine, softened
1 egg
5 cups of all purpose flour
2 teaspoons of baking powder
1 tablespoon of ground ginger
1 tablespoon of ground cinnamon
1 teaspoon of ground cloves
In a large bowl, cream the honey and butter until light and fluffy. Beat in the egg.
Add the flour, baking powder, ginger, cinnamon and cloves; mix until combined.
Wrap dough in plastic wrap and refrigerate for at least two hours.
Once the dough is chilled, divide the dough in half; return one half to refrigerator and make cookies with the other half.
Dust work surface and dough lightly with flour. Roll out dough to ¼ inch thick.
Cut into gingerbread men shapes using a cookie cutter; transfer to a well greased baking sheet.
Bake at 350°F for 10 to 12 minutes.
Remove the cookies from sheet and cool on a wire rack. Repeat with the remaining dough.
Makes about 3 dozen cookies depending on the size of your cutter.