BEE NATURALS – THE TRULY NATURAL PRODUCE COMPANY.
Bee Naturals is a honey bee centralised social enterprise based in Peckham, South East London formed, and run by multi award winning disabled beekeeper Paul Vagg. Bee Naturals came about because Paul was blatantly told he couldn't be a beekeeper due to his disabilities, and yet has gone on to become a multi award winning individual in the field, and after facing discrimination based on those physical disabilities, he soon realised there were others whom had encountered the same issues.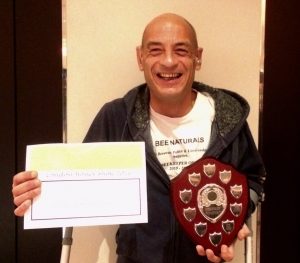 Originally formed to bring Beekeeping to those with physical disabilities, whom otherwise found it difficult to become involved in beekeeping, Bee Naturals has evolved. We of course still offer Beekeeping to those with both physical and learning disabilities, but we are now able, and actively involved in taking our talks and activities into social care homes, and we have given, and provide polish and candle making activities, observation hive and talks, planting advice, and even honey harvesting during season. Our numbers have grown to include other beekeepers, community members and business sponsors from all walks of life, ethnicities and sexualities.
We run numerous initiatives including the development and planting of forage on unused land, and information for the general public on planting for pollinators.
We are financed by generous donations from our members, the sale of our London Honey, and our entirely natural handmade beeswax polish range, beeswax candles, and sls /paraben free handmade soaps and cosmetics.
When required we have on occasion been well supported by crowd funding, which can be useful when attempting a particularly ambitious forage planting project, such as the project we are currently actively involved in at Veolia, on the Old Kent Rd, and of course our sponsors like Lavender World, assist by sponsoring our planting initiatives with plants.
In addition we provide education, advice and support to promote responsible urban Beekeeping and advice pertaining to the issues affecting honey bees and other pollinating insects.
Bee Naturals was formed in early 2014, and is owned and run by our Bee Keepers based in South East London. We love all things Bee related from tending the apiary to making polish and are passionate about the environment.
 One thing we noticed when forming Bee Naturals, is that it actually near impossible to get a natural wax polish. BE WARNED!! Most sellers online or in stores market their items as 'Natural Beeswax Polish' or 'Traditional Beeswax Polish', but have you ever read the ingredients. Whilst the beeswax itself maybe natural, the predominant other ingredient in traditional polishes is Turpentine or Spirits, both of which are petroleum and chemical based, both of which are hazardous to the environment, poisonous and flammable. Turpentine or spirits are used to lift dirt and grease, but they also dry the wood causing cracking over time.  We believe strongly that a natural product should be exactly what it say's on the tin. Hence we created BEE NATURALS.
BEE NATURALS does not contain any chemical or toxic ingredients, it is as stated a natural product. We blend natural oils to nourish and protect your wooden furniture or leather, and to prevent drying and splitting, before adding the shine with natural unrefined beeswax and carnauba wax, to create an entirely natural, safe and non toxic product, safe for use all around the home, without concern for your family or the environment.
We at Bee Naturals are totally committed to providing excellent customer service and environmentally friendly products, at great value.
BE SAFE | BE ENVIRONMENTALLY FRIENDLY | BEE NATURALS